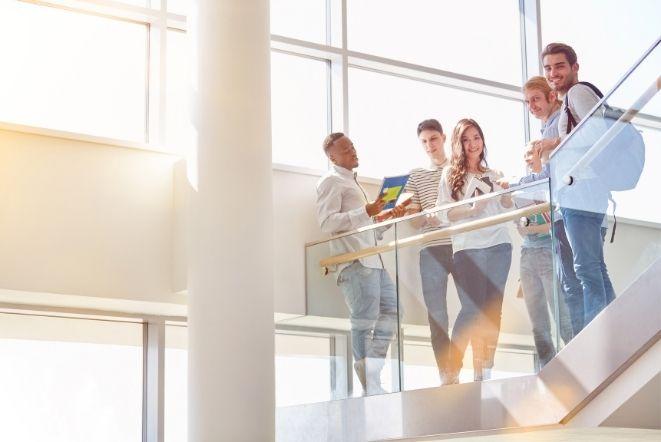 Building a Strategic Future with Next Generation Tech Talent
What do you consider the quintessential element to building a solid, dependable future for a tech company?
Is it a steady stream of new clients and revenue? Or a sound, long-term strategy of expansion and the provision of high-quality services and state-of-the-art technology?
While both goals are required to ensure the growth of an IT organization, we believe that without a third element, these two cannot be implemented appropriately.
In our opinion, that element is raising the next generation of tech talent and securing a creative and skillful cadre of young professionals to carry on the torch and usher the company into the next era of digitalization and Information Technology.
How does Attrecto go about achieving this particular goal? Let's take a look!
THERE ARE MORE OPPORTUNITIES THAN AVAILABLE PROFESSIONALS
Currently, the world of Information and Communication Technology is gripped by a severe shortage of ICT professionals worldwide. By the end of 2020, more than 900,000 experts were missing in Europe alone, and that number was well above a million in the US. With the lingering pandemic and its transformative impact on the industry, as well as the ever-growing demand for talented developers, software engineers, and coders, these shortages have only become a lot more intensive.
The ICT industry was already extremely competitive, but now there's a new gold rush for finding and recruiting these highly sought professionals before competitors do.
Some companies focus on well-established, experienced, medior or senior-level talent and try to bring them on board if they're freelancers or convince them to switch workplaces.
On the other hand, some organizations are keeping an eye on the next generations who're currently studying and taking their first steps in the world of coding and development.
Attrecto is one such organization that monitors these future generations and is willing to invest in their skill and personal development.
OUR PARTNERSHIP WITH THE SZÉCHÉNYI ISTVÁN UNIVERSITY
"The Greatest Hungarian," Count István Széchenyi was an outstanding statesmen, politician, and a near unstoppable force for modernization and progress in 19th century Hungary. Bearing his name while honouring and continuing his incredible legacy, the University in Győr has become our committed partner in teaching and training students in the scientific art of software development.
Situated on the banks of the Danube, the university campus has recently undergone a massive infrastructural renewal including expansion of student accommodation capacities with the addition of two new, high-quality and well-equipped dormitories.
Together with the University's Faculty of Mechanical Engineering, Informatics, and Electrical Engineering, we are involved with helping students in Computer Science Engineering and Information Sciences programmes both in Hungarian and English.
Working with the university, we've created a unique university-industry collaboration where we host courses and step up as guest teachers and instructors. However, we've also established a unique, free programme, called Attrecto Academy for students who would like to go above and beyond the primary curriculum and hone their skills by solving IT problems and challenges in practice.
ATTRECTO ACADEMY
The concept of the Academy boils down to three main goals:
Teach the basics of IT to freshmen students and make them enthusiastic about continuing their studies
Help students master what they learn by applying that knowledge in a practical setting
Introduce Attrecto and show them how we develop digital solutions
Concerning the first point, we are focused on ensuring that these students experience success and the joy of coding and development. The goal here is not to push them into a crunch and make them professional developers in a single semester. On the contrary, we build these courses to help them develop skills while they grow to like the world of IT. And then, we can count on the fact that in 2-3 years, they will first join our team as valued interns for their mandatory internship, which is required for graduation, while after graduation, they become junior developers at Attrecto.
We've experienced an interesting phenomenon during our recruitment processes and the evaluation of new colleagues. Namely, those who have not attended the Academy need a lot more time and work to learn and understand the tasks of their position than Academy graduates, who have a much easier time getting up to speed as they settle in comfortably.
In the spring semester, we are launching four new, 6-week-long courses for students, focusing on the practical application of IT knowledge, as well as solving specific challenges that a developer usually encounters every day on the job:
Javascript / Angular (frontend)
NET (backend)
PHP / Laravel (backend)
Quality Assurance (software testing)
SECURING FUTURE TALENT
Ultimately, this is our "secret" recipe for building the company's future: we help raise and secure the future talent needed for the industry-level projects we're involved in.
Over the years, we've realized that it's more beneficial for us to teach and train the next generations of IT professionals; to help them take their first steps in software development and give them the means to enjoy this profession profoundly.
We're committed to investing in our talent – even 2-3 years before they become part of the Attrecto team – as it is also a significant investment in our future as a company, with an incredible ROI potential.
Whether they attend Attrecto Academy or complete their internships at us, they receive the same level of care, attention, and mentoring that our full-time colleagues do – which is a powerful incentive for many IT professionals to settle down with a company as they master technologies and development techniques.
And from what we can currently see, instead of trying to recruit the current best of best in IT, it's significantly more advantageous for us to focus on and train the future best of the best who are currently attending university or professional training.
This is how we gain an edge over our competition; by securing future creative talent who will build the next-tech digital solutions. Digital products that delight end-users and prove that we are the strategic partners that stay to ensure that our partners remain at the top with state-of-the-art, customer-centric technology for years to come.
Download your free guide for development process in UX driven projects